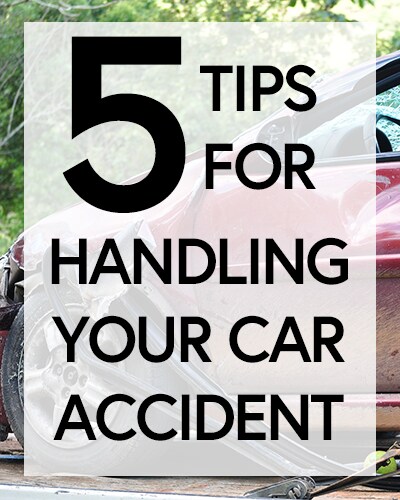 1. Take notes and photos of the accident when possible
When you are involved in a collision it is normal to feel panicked, disoriented and confused. The first thing you need to do is check yourself and any others involved in collision for injuries. Even though police are often called by a passerby, it is important to call to ensure their notification. After these things have been done is the ideal time to gather facts and photos of the accident.

2. Find a reputable repair shop
As with finding a good plumber or mechanic, the reputation of a body shop is an important factor to consider. To begin, you should ask your insurance company for references. Insurance companies will not do business with inferior shops or service providers since they have vested interests in the vehicles. You can also ask your mechanic for references. If they have worked in the local area for a while they are likely to have experience with body shops. A reference is worth its weight in gold and will save you a headache. Any reputable body shop will be more than happy to show you the quality of its work.  Ask to see before and after photos or jobs that are currently being worked on in the shop. Kuni Collision Center always welcomes customers to examine our work. You will also want to ask about guarantee policies. A good body shop will stand behind the repairs it has done and provide a warranty on paint, parts and labor.

3. How Long Will It Take?
Most insurance companies divided the labor hours by a set formula according to the company guidelines. Every insurance company we work with has a slightly different formula but the typical breakdown averages out to a 4 hour work day. So if the agent's repair estimate calls for 40 hours total labor, you can divide 40 by 4 to arrive at an estimated repair time of 10 business days. At Kuni Collision Center, we will always work with you and your agent to get your vehicle back on the road in record time.

4. Will my car be repaired or replaced, and who decides?
After evaluating the damages to your vehicle, your insurance company has the option to repair your vehicle, replace your vehicle, or reimburse you for the vehicle's actual cash value (ACV). Actual cash value is the amount your vehicle would have sold for on the date of the accident. The insurance company will often reimburse you for the ACV when the vehicle is too damaged and it is economically impractical to repair. A vehicle is considered economically impractical to repair, or a total loss, if the cost to repair the vehicle equals or exceeds the vehicle's ACV on the date of the loss. In many cases the insurance company will go ahead and total the vehicle if the appraised damages equal 80% of the vehicle's ACV. This is often the case because, once repairs are underway, additional damages or "hidden damages" may be found which would render the vehicle a total loss by definition. This is sometimes referred to as a "constructive total" loss.

5. Who pays for the rental car?
This is a tricky question, as policies vary widely. You will want to always check with your insurance company as to who is responsible for rental fees in any unexpected circumstances. It is also a good idea to be informed about this BEFORE any accidents in regards to the price a rental car may cost you, or the number of days you may have available with your particular policy.